Latest News
If you missed a night of the Youth Week, "God's Church has a Mission" series, Click on the title.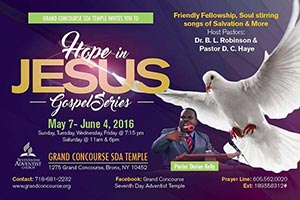 Save the date, October 15, 2016; trip to the Reformation Land, Germany. More information will be forth coming. Start saving now. Cost is approximately $2,500.00.
7-7-7 Prayer Line (7 days; 7am and 7pm)
Prayer line: 712-770-4005;
Access Code: 529473#
From now through the Evangelistic Series.
United Camp Meeting has been changed to September 17, 2016.